ABOUT US
COMPANY​ PROFILE
Our company was established in 2002. Our production is mainly concentrated mainly on hand knitting yarns. However, we are also active in fantasy yarn business field.
We are achieving our production in 1.600 m2 closed area and some third parties are also working for us under our supervision. Our estimated capacity is 100 tonnes per month.
SOME PHOTOS FROM YARN PRODUCTION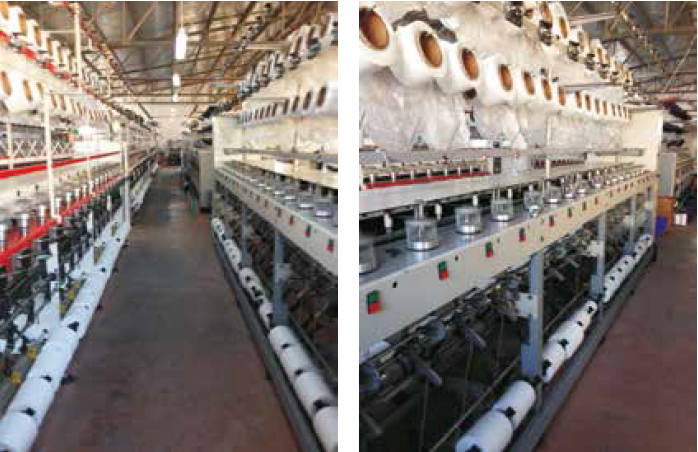 We are working with one of the major integrated dyehouse in Bursa with European standards. You may find some photos from dyehouse facilities.
We would like to give some technical datas for our dye house capacity.
Bobbin dye group machines are from ITALY, well-known brand of BELLINI.
Daily dyeing capacity is 20.000 kgs.
For bobbin dye, the boiler capacity and units are below.
| | |
| --- | --- |
| 2 UNIT | 1000,00 KG |
| 3 UNIT | 600,00 KG |
| 2 UNIT | 300,00 KG |
| 2 UNIT | 200,00 KG |
| 3 UNIT | 100,00 KG |
| 2 UNIT | 50,00 KG |
For sampling, 4 boiler with capacity of 5 kgs is also available.
Other major machines which may be significant for our customers are also stated below.
MACHINES

BRANDS OF MACHINES

HANK DYE BOILERS – 3 UNITS
(BELLINI BRAND) DAILY CAPACITY of 5.000 kgs
HANK DYE – DEGRADE STYLE
(ITALIAN SWA BRAND)
BOBBIN DYE – DEGRADE STYLE
(ITALIAN SWA BRAND)
CENTRIFUGAL - 3 UNIT
(OETTIN BRAND)
DRYER WITH PRESSURE
(BELLINI BRAND)
2 UNITS (STALAM BRAND)

DRYING MACHINE WITH RADIO FREQUENCY

SYSTEM
| | | | |
| --- | --- | --- | --- |
| | | | |
| BOBIN DYE | HANK DYE | DEGRADE DYE | DRYING UNIT |
We are already supplier of some bigger producers of hand kntting yarn in Turkey for specific items on OEM base. We would like to diversify our commercial activities especially for hand knitting yarn field to
export markets as a reliable supplier which we have a big reputation for quality and delivery terms base in Turkish market.
We can provide 50 – 100 kg per colour production for most of the items. Moreover, we have the capacity of providing 3-5 kg sample production so as to give chance our customer to have a market evaluation with their selected final user before big volume production orders.
We are also ready to produce hand knit yarn from well-known brands for our customers. We hope that in this catalogue you will find our latest products sample photos, patterns and colours in order to evaluate our design and technical team's capacity for collaboration.
We can also produce thinner or thicker version, different Nm s and compositions of yarn according to your request.
Our web site is www.bniplik.com.tr. You may also check out products section.
User name : bniplik and password : bn1299
Our yarn compositions for hand knitting fancy yarns are ;
% 100 Cotton
% 100 Bamboo
Cotton / viscose mixtures
% 100 Polyester
% 100 Micro-polyester
Polyamide / polyester mixtures
Polyester sim
We may make special size and weight production according to our customers requests. 50 gr or 100 gr or any other weight needed.
Moreover, we are ready to produce any special type of fantasy yarn which are not mentioned in this catalogue as a style or composition.
We hope to be one of your distinguished partners.
Best regards,
Yüksel Akkuzugil
Exports Director